Healing The Heart With Doreen Cohanim: Celebrity Hypnotist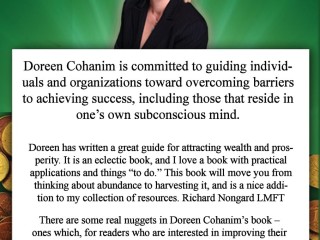 My divorce, having my child taken away, car accident, out of body experience and back injury, took me to a very devastating physical and an emotion pain that was hard to live with…  I wondered if I'd ever be myself again… And something happened to me that changed my life for the best, and as a result I became a healer, personal coach and a hypnotherapist to an amazing people from all walk of life and from all over the globe who have physical and emotional symptoms just like mine, only with similar or different story's.
I have spent the past decade promising myself and others that I can show them the way to having fun again and to a better and happier life, help removing challenging obstacles, help them to better financially, to be successful, healthier, wealthier, slimmer, confident, stronger, ex-smoker, and stress free. I have even tailored high end professionals and some celebrities with a "hypnotic virtual gastric band", "stop addictions", "depressions", "stress " and much more.
My first self-published "The Hypnotic Millionaire Mindset Method" covered an easy step by step self-discovery and mind programing to an Instant Encouragement and Magnetism, which contains a system to unlock the "healthy-looking human vitality" that is more appealing to you and your surroundings. "When you apply the techniques, you will feel happier, be able to market yourself better and even make more money. You will even improve your relationships with a love one, and forgive all the pain by forgiving yourself and others. You will attract easily, feel better, be more productive, enthusiastic, and guilt free. You will be much better communicative and a better sales person, etc. Above all, you will be freer to express your own values and live a more rewarding life style.
Celebrity hypnosis Doreen Cohanim Ch.t, is available for one on one sessions, group sessions and speaking engagements
818-521-1547